Club 4x4 Insurance
4WD NSW and ACT Inc have partnered with Club 4x4 to bring you a discount offer on insurance for your 4X4, Camper Trailer, Caravan and Slide-on Camper.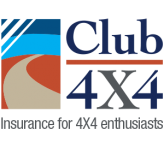 The supplied link from Club 4x4 is being worked on. We expect to have this in place by mid January.
There are many requirements and approvals necessary when dealing in the insurance industry.
We need to take the time to get this correct, for those that have been waiting for the link we apologise for the delay.